WordCamp Brisbane 2019 is done and dusted. There will still be meetings with the WordCamp organising team to reflect on what went well and what could be improved but right now I want to talk about the social media side of things. Here's the 'brain dump'. I hope it helps someone else doing digital marketing for events in future.
There were 323 tickets sold in the previous year, this year we increased ticket sales by 36% and sold 440. Events typically sell 70% of their tickets within the final 2 weeks. WordCamp Brisbane 2019 proved you can change that with regular posting in the weeks prior.  Every post, share, like, comment extends reach and prompts new people to get onboard. That requires a lot of time and the commitment to engage at all hours.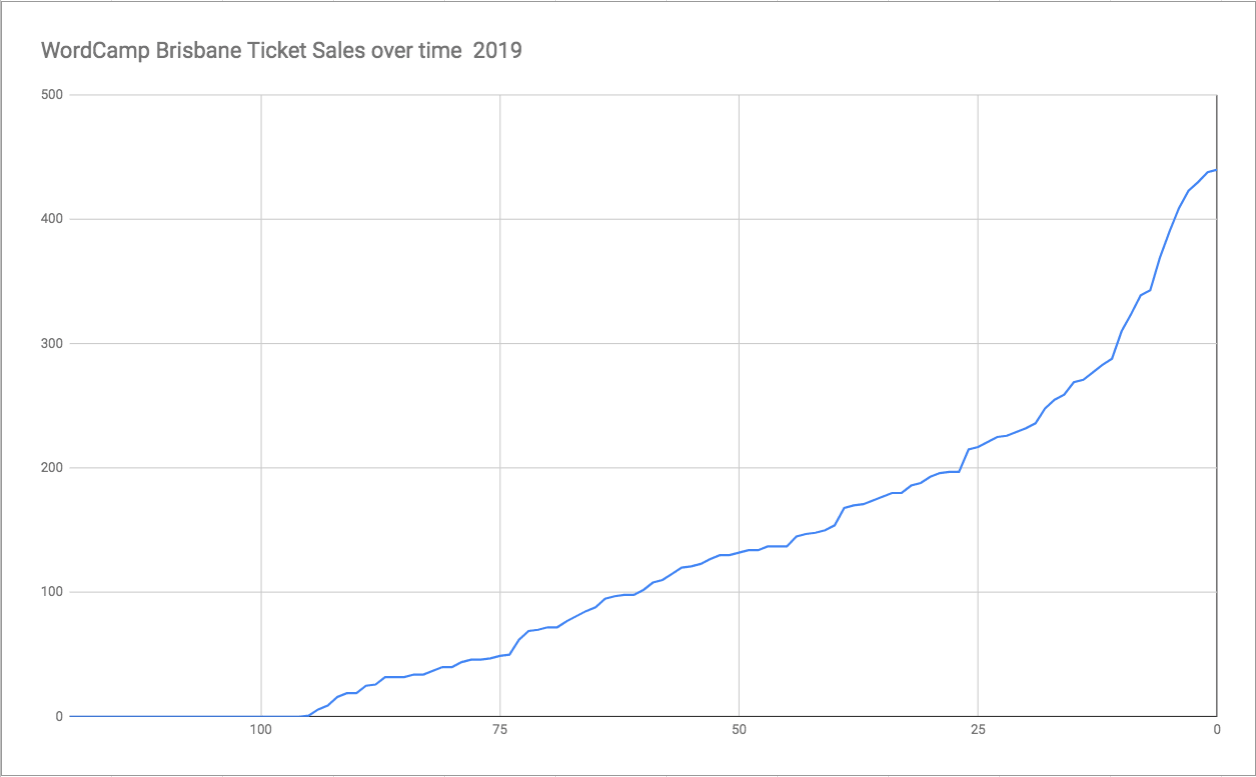 Social media is time-consuming (but planning ahead can offset most of that)
Planning is essential. Planning is essential. Planning is essential. I winged it (due to time constraints working around my booked client work) but if I'm involved next year I would do more in the earlier phases to make life easier for the last 3 weeks and during the event
Define your audience(s) right from the outset so you know who you are talking to (groups, regions, use cases, noob, advanced etc)
Work out the regions you're targeting (Brisbane, Gold Coast, Sunshine Coast … who else / where else?)
Do you have time to talk to EVERYONE?
Do you have time for 'all the things'? You might need to choose to focus on just a few platforms vs all of them.
Look for audience gaps – who always shows up, who else could also benefit how can you reach them?
Defining marketing phases and timeframes early on is important (event announcement, speaker announcement, sponsors, volunteers, attendees, parties, organiser meetings).
Plan your outreach (meet up groups, business groups, local area groups) and have team members ready to share as you approach your conference day
Posting on the fly is just as important as the planned content. It provides the most authentic responsive experience
Tag team with someone on the day (especially if there is more than one room running talks).
When working with others co-ordination is essential. Figure that out before the event so you're not double posting.
You might consider just having one person post and others feeding content to that person. If so how will you get the content to that person on the day?
Set roles for the type of posts you'll do and discuss beforehand
If you are photographing the speakers, you'll need someone down the front and someone up the back to get both close ups and the big shots with audience showing. It's not great running back and forth to do this as it distracts speakers (especially the first timers). Coordinate so someone sends you the close ups or vice versa so you can put them together and post.
Have graphics tiles prepared in advance for the day – things move fast – what will happen on the day what will you need?
Use attendee content on the day (repost Instagram for example)
Reply, comment, engage with your audience
Leverage the audience speakers already have (tags in Instagram and Facebook)
Leverage the audience of fans who come every year (Facebook frame on profiles does this well)
Thank everyone, repeatedly. Recognise your community. Make them feel welcome.
Regarding event photography for social media > Samsung phones seem to handle low light and high contrast photography better than iPhones. This is a sad fact coming from a devoted Apple user.
Make sure you get some sweeping video shots from the speaker dinners and the event on the day – varied content works well for engagement and reach, plus it gives those who will attend the following year a taste of what they are missing.
Finally … social media is a conversation. If you are wondering what to say… imagine you are talking to someone – an actual individual – if you're not able to read what you've written as part of a conversation face-to-face then chances are you need to re-write your post.
Expect to update caterers and coffee suppliers in the final week.
This was my first time promoting a large event. I have been doing promotion and advertising on socials for small business owners for many years now but event promotion is really a differently kettle of fish. It was a fantastic learning experience and a lot of fun on the day. I'm very happy to have had the opportunity to help out the WordCamp and WordPress community.
In summary, I have learned that event promotion on socials is all about the number of people you can reach in the weeks leading up to the event. The more people you reach who know about the event and get inspired to attend, the bigger the response in those last 2 weeks when tickets sales tend to skyrocket.
I hope this info is useful to anyone helping out with future WordCamp's but also anyone promoting workshops and other events. If you need more info hit me up on socials – Alicia Laing @creativemode